Merry Christmas and Happy New Year to all our Fine Customers!
We look forward to doing business with you in 2018!
-Cleone Uecker-
Let us all remember the reason for the season and to be Kind, honest & truthful, make good memories, Count your blessings, be grateful.
"A Clear conscience is a peaceful pillow"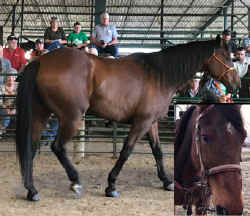 Stolen from our November 18 horse sale! Big 16 hand good looking Bay 1280 lb gelding that has been used in team roping and the 4-H program. $500 Reward for information and return of this horse. We are worried this horse is not being cared for properly and is likely in eastern South Dakota.
He has a brand on his upper left hip. He has some age on him, but the person may try and pass him off as 10 or 12 year old. If you know of anyone with a new bay horse in their possession or for sale, please contact Cleone at 605-770-5813 or local police at 605-724-2238.