Notice: ALL out-of-state Buyers paying by check must have a Letter Of Credit on file or Letter of Reference from their bank to receive a bid number
Letter Of Credit Form
Fax to new number 605-996-1913!
(Required for NEW out of State Buyers)
Be sure to check your calendars for our highlight sale of the year, April 22 which will feature our 16th Annual Super Bowl Gelding Session along with 4-H horses!!
PLEASE EMAIL QUESTIONS to
info [at] sdhorsesales [dot] com
or TEXT us at
605-770-5813
(phone lines are very busy)
We DO NOT allow horse trading on the premises or
people selling dishonest horses. We want to deal
only with good people.
SALE HIGHLIGHT: AQHA Registered 8-yr old Gelding that is very cowy and athletic. Roped cattle out in the open pasture with him and he works a rope very well. Started him on heeling side. He's won top horse in several ranch rodeos. He really gets down and works cows the way you like. (click for video)

HEY LOOK! - NO catalogue fee for our March 11 sale!! This will be a on-line catalogue only but highly advertised sale as usual. Sell the SD Horse Sale way for best prices.
Details and footnotes need to be emailed to info [at] sdhorsesales [dot] com. Reg. Papers can be emailed as well if horse is registered or Text to 605-770-5813 by photo.
You could also fill out a consignment form (Preferred Method) on our link and we will automatically get a copy of the consignment form.

NOTICE – BIG Buyer Demand - We need horse consignments – All classes but especially well broke and top notch gelding prospects. Our knowledgeable Buyers know the difference and will pay the price!
Sale Day Schedule:

Loose Horse Sale – 11 AM to 2 PM
Rope Cattle (if consigned) – 2 PM
Preview In indoor area – 11:30 AM

Open Consignment Sale – 2 PM (Approximate)

Checks available sale day as per USDA Rules & Regulations

We expect a SUPER sale for March - just like last year.

(Click) to read the 2016 March horse report.

LOOSE HORSE DELIVERY HOURS SATURDAY– 8 AM to 12:30 PM
(Friday delivery hours: 2:00 to 7:00 PM)
Note – Loose Horses are sold in order delivered to the yards – un load West End.
Email us at info [at] sdhorsesales [dot] com to be added to our Horse Sale News emails or for questions.
Notice – In case of inclement weather for our March 11 horse sale, it may be postponed to following week so check our website OR click on email link above to be added to our Customer Email listing for updates to our sale.
TEXT Cleone at 605-770-5813 for details or questions.

Our Long time Reputation & Volume sale bring in all the Top Buyers in the Country assuring you Top Dollars for your horses. We now celebrate 33 years in the horse sale business!
South Dakota's No. 1 Horse Sale Market where honesty & integrity is the name of the game.
E-mail us at info [at] sdhorsesales [dot] com
Phone: Cleone's cell: 605-770-5813
Notice: ALL out-of-state Buyers paying by check must have a Letter Of Credit on file or Letter of Reference from their bank to receive a bid number.
Welcome to South Dakota Horse Sales!
from Cleone Uecker, President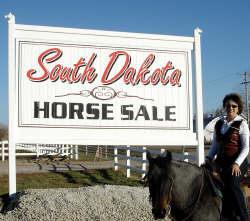 South Dakota Horse Sales is one of the largest and most reputable horse sale markets in the USA --specializing in the sale of fine horses!
Thank you to the many folks that compliment our sales and go home and recommend us to their friends and neighbors. Word-of-mouth is our best and cheapest advertising and we sure appreciate it!
Just like a major airport terminal, we consider South Dakota Horse Sales a major horse terminal, where buyers and sellers alike gather from across the United States to exchange horses. The only difference is the horses never know exactly which (flight) horse trailer they'll be leaving on or which state they'll be headed for when they leave. It's really rare to see someone bring a horse to sell and leave with an empty trailer--sellers are buyers as much as buyers are sellers.
Thanks again, and see you at the sale! -Cleone